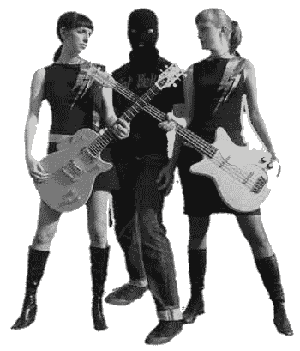 from the left to the right:
Juliette Elektra - guitar, vocals
The Man with the black Mask - drums
Marie Elektra - bass, vocals
The Elektras are a sexy trash-punk three-piece consisting of two young women and a black mummed drummer! This combo extraordinaire has existed since autumn 2oo1, and their lo-fi sound is a mixture of dirty garage trash and 60's riffs. Their thunderstorm sound will hit you hard in the face! So watch out for Elektras live action!
Write to The Elektras!!!